C.C.S. Tailspinners
Synchronized Swim Team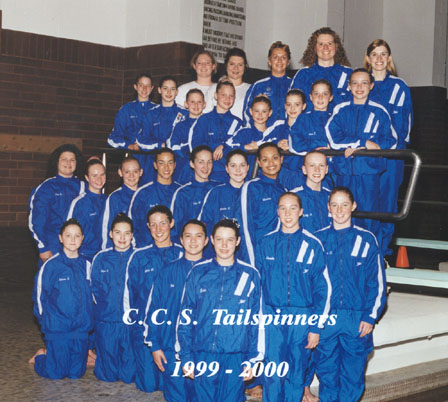 Competitive synchronized swim teams have existed in northeast Ohio for decades. In Stark County, they began in the 1960's with teams under the local YMCA organizations and the Canton Jewish Community Center.
Collegiate synchronized swimming came to our area in 1992 with the formation of the Walsh University varsity team. Currently the C.C.S. Tailspinners Synchronized Swim Club provides the Stark and Summit County area's only competitive team.
The club is open to girls ages 6-18 and practices at the C.T.Branin Natatorium. The roster has included swimmers from Medina, Mentor, New Philadelphia, Dover, Aurora and as far away as Beachwood.
Tailspinners was organized under the North Canton YMCA by Dee Dent
in 1976, and in 1987,as a private, non-profit, charitable organization.
In 1996 the city of Canton took over sponsorship of the club and the team has flourished.
The Club competes with other northeast Ohio teams in the Lake Erie Association for both USSSI Age Group and Elite Competitions. Senior squad members of the Tailspinners have competed in the USSSI National Age Group Championships since 1988, with numerous routines ranking in the nation's top 10 alongside powerhouse teams from the West Coast. Swimmers enjoy traveling to different locations and the excitement of competing. But the greatest reward they find are the life-long friendships developed with their routine partners, and teammates.

WATERSHOW:
Saturday April 25,2001 at 7PM
25th Anniversary of the Tailspinners Synchronized Swim Team 1976-2001
HOSTING:
REGION C CHAMPIONSHIPS: May 18-19 at CT Branin Natatorium, Canton, Ohio
Qualifier for National Age Groups
2001 EAST ZONE JUNIOR CHAMPIONS:
Danielle Kramer-Solo
Molly Bradway-Kristy Averell-Danielle Kramer- Trio
2001 STARK COUNTY SWIMMER OF THE YEAR:
Greater Canton Aquatics Assoc.- Kristina Averell
2001 ALL COUNTY SYNCHRONIZED TEAM
Kristina Averell, Molly Bradway,
Christina Antwi-Obimpeh, Erin Mallon (Greater Canton Aquatic Assoc.)
2001 ALL AGE GROUP SYNCHRONIZED TEAM:
Stephanie Leway, Celeste Alters, April Bos, Jamie Rogers- GCAA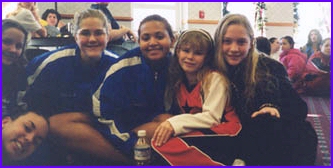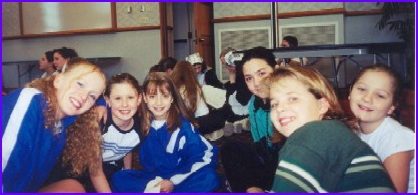 For more information, Contact 330.438.2738