This Page Is Dedicated to
My Beloved Friend...

Oreo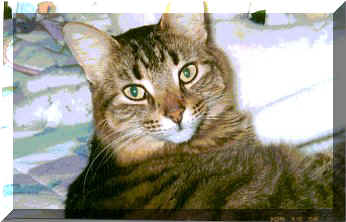 Who passed away on... JULY 27, 2000.
Oreo was my best friend and confidant for 11 years. He grew with me through my teenage years...he was always my pillow to cry on, and my shelter through the rough times. I will NEVER forget him, and he can NEVER be replaced!
A part of my heart will always be with him no matter where my life takes me. Although I feel he was taken from me too soon, I find comfort in knowing that he is now my guardian angel, watching over me from heaven. I am sure in my heart that he has now become God's favorite pet!
Oreo, I light two candles next to your picture every night in your memory, and I hope that you know that I miss you, and you were my best friend in the whole world!
With Love and Devotion-
Amanda Burkhart