NOOKIE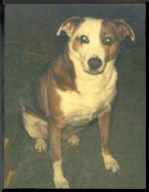 The coolest family dog,
and for many years, best buddy to Lady.
I could always tell when a storm was coming by
the way you would tremble and hide under the bed.
You were so sweet to let us draw a circle,
around your eye to make you look like Pete
from the Little Rascals....then cancer took you from us.

God Bless you my friend, and enjoy Heaven with Lady.
With Love,
Your Family.
Lady & Nookie
Sweet Dreams!!